We woke up this morning to a fully-dressed child.
Read again with me. Slowly.
A. Fully. Dressed. Child.
A four-year-old who got up, got out of bed, shed his pajamas and "bedtime underwear." Placed each in the proper receptacle. Opened drawers and selected underwear, pants, under-shirt and over-shirt. And got himself dressed. Without any help, dawdling, complaints, cajoling.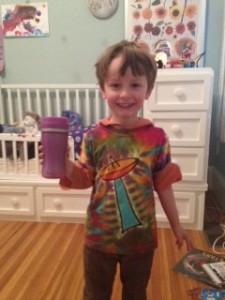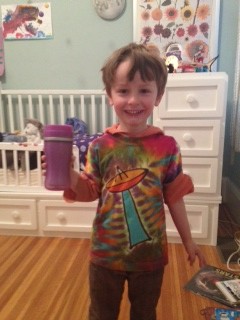 A serious miracle happened here.
Although I did immediately know why this amazing miracle had chosen to visit upon my child, my family, my home.
This morning was the final morning of The Chart.
In a half-donkeyed effort to get my child to STOP PLEASE DEAR GOD STOP WAKING US UP IN THE MIDDLE OF THE NIGHT EVERY NIGHT AND THROWING TANTRUMS AND FITS AND DEMANDING TO BE WALKED BACK TO BED AND GIVEN WATER AND TAKEN TO THE BATHROOM AND ANY OTHER SUCH THING THAT YOU CAN THINK OF TO THE POINT THAT ONE NIGHT AFTER TRYING TO GET HIM TO GO BACK TO SLEEP FROM 1-2:15 A.M. I GAVE UP AND WE BOTH WATCHED PAJANIMALS ON ON-DEMAND TILL 3…
In order to make THAT stop, I instituted a chart. And a reward. The kid has been angling for a Hex Bug Set. This one.
So, I suggested that if he could go seven nights in a row without waking us, he could earn the set.
That conversation was not, however, seven nights ago.
First, you should know that when we went to draw the chart, seven boxes don't go evenly across the page in two rows. So we had to up it to eight. For symmetry.
And then, getting the child to CHANGE A HABIT THAT HAS BEEN GOING ON FOR AT LEAST A YEAR, and sometimes UP TO FIVE TIMES A NIGHT, doesn't happen quite so easily.
So the challenge became eight nights without waking us, PERIOD. Rather than in a row.
In the meantime, we worked. We worked on trying to get him to understand the difference between waking us because he really needs us, and waking us because he just wants to check and make sure we are still there.
We talked about how nightmares are not real. We also assured him he could come in for a hug if he was scared. If we didn't have to follow him back to his room, it still counted as a win.
We placed a no-spill sippy bottle full of water next to his bed.
We instituted several rounds of PRACTICE over several nights. We turned off his light in his room and he practiced finding his flashlight and turning it on. He practiced putting his blankets back on himself by himself. He practiced using his flashlight to find the bathroom and go to the bathroom (which also has a nightlight, but still).
We tried to impress upon him how much it would benefit him not to have sleep-deprived and cranky parents during the day. We used his stuffed animals to act out what the nights are like. The version of how it has been, and how nice it could be.
(This one I just did last week. He thought it was completely HILARIOUS.)
Maybe some of this stuff helped. Or maybe he's just finally grown out of a thing. Probably both. (I think some will to win the reward was involved in the last several disturbance-free nights.)
But I'll tell you what. He was REAL clear that this morning was the morning that he was going to get to put in the last sticker and gosh darn if he didn't get up and get himself dressed over all that excitement.
And yes, he got his Hex Bug Set. And he saw that it was good.