The first night, I blew his little mind.
With this:
Child's Astronaut Writst Watch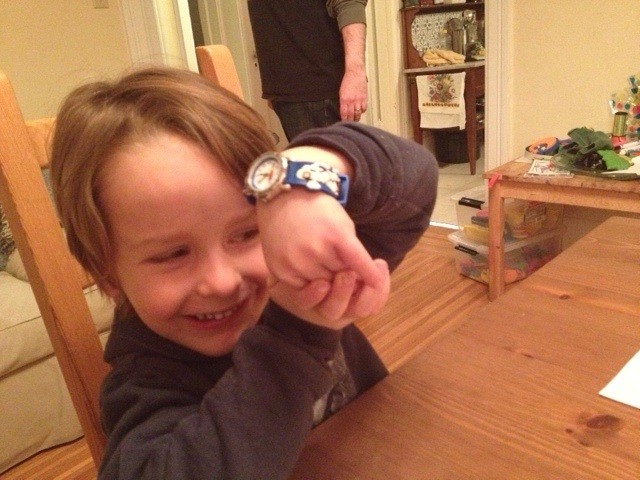 I paid around $11 for it at one of our favorite haunts, the Lawrence Hall of Science. You can follow the link posted above and get the same wonderful watch for about $4. But I'm supporting my local economy and doesn't that make it all worthwhile? Tra la la.
What made it AWESOME was this: A few weeks ago, the boy and I were shopping together in the LHS gift shop, as we do. I rarely get to skip it. We only can debate over whether to start at the shop or end in it. I was encouraging him to show me what he liked, and taking camera phone photos for reference, partly in preparation for the holidays and party because a therapist once taught me that knowing what you want is an important skill and encouraged me to play wanting games with my child.
He saw a display with a group of brightly-colored child's watches with 3-d molded decoration on the bands and cleverly thematic second hands. He selected one that had dinosaurs on it.
And then, I spotted the astronaut one on a second rack by the register. Bought and wrapped without him noticing.
When he opened it, you could see the degrees of understanding spreading across his face in waves. The recognition that it was THAT KIND of watch, but even better because it was space-related. Astronauts, rockets, earth, and moon on the band, a rocket circling around the face as second hand.
He slept with it on.
(Cue applause.)
Second night was equally successful. Recently the boy had complained that his pink marker had run out. For the most part, his marker sets have been 5-12 colors, fat pens for small hands.
I got him this at Walgreens:
Another HUGE hit. He set to coloring immediately. Aliens, rocket ships, nebulae. Scott asked what Jonah was drawing and Jonah said, "I'm doing my work. These are drawings for a cartoon show on TV."
(Cue proud daddy.)
(Today, I asked Jonah if he knew that other people's parents leave the house to go to work. He does not.)
By Day 3, the boy is starting to get the gist of this whole gifting thing. He starts trying to make suggestions. He tells us, "I like space and dinosaurs and trains. I ALSO like race cars."
Ummm… too late for that.
3rd present: a surprise train. Which was hardly fair. He'd had three or so picked out last weekend at the Model Railroad Museum and I should have by all rights gotten him at least one of those. But I didn't want to drive to Point Richmond again and I couldn't figure out how to sneak them past him while we were there.
Fortunately, he loves it. Especially how it runs on his old Thomas tracks. Today he carried it with him and sang to it in the car, a made-up song about how everyone has a window.
Shockingly, our neighborhood toy shop, usually famously overpriced, had it for $5 less than this one on Amazon: Schylling Express Train
Today he was hinting even harder for a race car. So I unveiled my best substitue, a tin plane that has flames on it and "friction drive" wheels and is named "Meteor 7."
Still reigning in my awesomeness.
Earlier today, he'd asked if he could pick which present he opens but I said no.
I am carefully doling out the gifts in a certain order to regulate the build of excitement. Saving the least dramatic ones for Christmas Eve and Day (where he's going to be deluged with gifts from grandparents as well as the most perfect gift ever—we hope—from us). And the best two for last, I hope (xmas denouement).
But it is likely that nothing will help soften the post-Christmas crash. And I somehow feel beholden to keeping the Hannukah presents modest and saving the big guns (so to speak) for Santa-day. I guess you could say that's my interfaith-relationship spirit. I remember myself feeling like gifts spread over eight days lacked a certain panache. The excitement wasn't the same as opening a big pile at once. Measured joy vs. binge. I prefer binge. So I've preserved binge for my child. And tried to be masterful with measured.
Four nights/gifts to go. (I will tell you but shhhhh… don't tell Jonah!)
A big-headed T-Rex grabber thingy which he'd admired at LHS and I got at our neighborhood shop but cannot find for you online (probably will give to him tomorrow), a magnetic fishing game—like this one—(xmas day), an automatic bubble blowing gun (boxing day), and an airplane toy that flies over his head (finale). All purchased at my local store but apparently carried by this rather awesome website I found tonight to link to for you. I wish this entity had a store near me. Then again, the toy store near me seems to have at least some of the same cool stuff.