This kid is cleaning up for his 4th birthday.
We actually started before we left town. I picked up a water bottle at Whole Foods with space illustrations on it. (Nevermind that the illustrations are inaccurate: their version of Saturn has a rocky planet surrounded by rings and as EVERYONE knows—except the illustrator hired for the gig—Saturn is a Gas Giant, NOT a Rocky Midget.)
It is getting him to drink more water, also a bonus.
At the airport, Scott got conned/worn down into buying Jonah this whizzing toy that is basically a plastic throttle with three rubber tubes on one end on a rotating gear, with tiny plastic airplanes at the ends (red, yellow, blue) that light up and spin around. And make this horrible whiny churning noise. Jonah LOVES it. That was gift #2.
And it has paid off handily (at an astonishingly overpriced $8 in how it has entertained him through the plane flight and long car rides that are de rigeur on a trip to New Mexico).
While at Linda and Amy's, not only did they gift him his choice of item from their toy box (aforementioned Buck Rogers ray gun) but also Amy made Jonah a rocket, under his fiercely detailed art direction. No! Smaller! It needs ANOTHER fin! Materials: PVC pipe, cardboard for fin and tip forms, copious amounts of duct tape, and red saran wrap for the flames that trail from the engine.
Onward to Magdalena where we had one day of not gifting.
No, wait, not true. He got a $3 plastic monster truck at Smith's. He loves it.
And when we arrived, there were two books (one about a gecko that is based in local folklore and one about dinosaurs) and a flashlight on his bed. A special flashlight that comes with tiny domes so you can DIY a planetarium on the ceiling. He immediately dubbed it his "Hubble Telescope."
He got Grandpa Roger to build him another PVC rocket, with the extra pipe lengths Amy gifted us. They used a pecan shell for the tip.
Today we chose to officially celebrate his birthday because this would be the only day we'd be spending with his Great-Grandpa Pappy. Pappy and Pat gave Jonah a crazy-soft husky whom he immediately named "Wolfie" and proceeded to dote upon vigorously.
After Thanksgiving "Dinner" (also known as lunch to people of my persuasion), we lit candles in his cupcake, special-made by Grandma Judy following a chocolate cake recipe from Martha Stewart that called for canned beets. (It's healthy! We all agreed.) And we sang.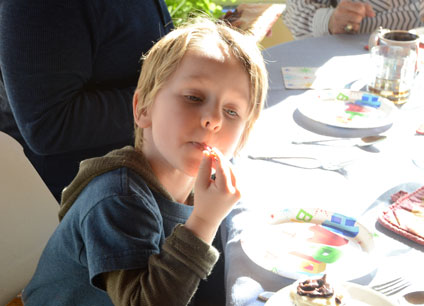 And Grandma Judy brought out the big guns:  A sleeping bag and pillow set covered in space shuttles, astronauts, planets, and stars; and another flashlight, this one a "Buzz Lightyear" variety—he's never seen Toy Story but the astronaut image is cool with him and there is a little plastic Saturn on a rope on one end of it.
Heaven.
Never one to let us rest on our laurels, after playing this afternoon with a set of toy cars that Grandpa had dug up from his archives, Jonah made a pitch for being able to take those home as well.
Must. Have. More.
We agreed that this would not be necessary. He has more than enough, for him, and for us as Sherpas to figure out how to schlep.
+ + +
The last time we came to visit was also at Thanksgiving, three years ago. Many activities were and are being replicated including the trip to the old folks home called Good Samaritan's to hear Roger and Pappy play music and sing, and a certain group photo.
Adams men, four generations around one chair.
Now: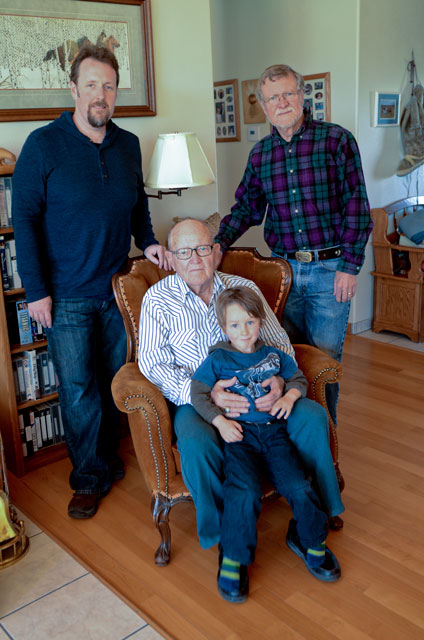 Then:
+ + +
Tomorrow we will replicate the green chile turkey enchiladas.