There are so very many good (and bad) children's books.
And then there are a few that so tip the scales on hipster street cred, for various reasons (beat poetry text, ironic plot twists) that they deserve their own special round up. Here are my nominees for the category. If you have more to add, dear reader, please list your favorites to the comments below.
Oopsy Daisy's Bad Bad Day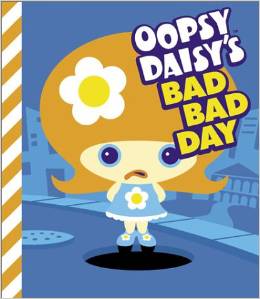 This book is most likely meant for grown-ups. Seriously. And yet, Jonah adores it. Oopsy Daisy is a big-headed anime-looking character who basically cheerily tumbles through a series of extremely unpleasant misadventures in sometimes garish sherbet colors, including being arrested, crashing the market on Wall Street, navigating the sewers, fighting a band of ninjas, attending a modern art exhibit, and ultimately meeting her demise in the mouth of a shark.
I figure we're giving Jonah an education in irony or something. For now, he really likes the bright, sharply defined illustrations, and he can relate to how she tumbles and bonks her head.
This book, full of haunting photo-collages of New York street scenes follows the path of one
"Black Cat" (looks like our cat, so that was a bonus) and asks in myriad different ways, "Where do you live? Where is your home?" Adults can self-entertain by reading the beat-poetry style couplets in a Mike Meyers as performance artist from I Married An Axe Murderer voice. Jonah likes the stark photographs and the rhythmic refrain.
Scott bought this book for me when we were dating, because I'm just the kind of gal who regularly uses arcane expressions like "Phooey."
Jonah LOVES LOVES LOVES this book. The illustrations are light, bright, clear, and fun. There are birds, a dog, a cat, an escaped elephant, rolling barrels of kippered herring, cowboys, pirates, extremely bouncy oranges… and a little boy who doesn't notice any of these wonderfully strange goings-on around him.
The boy's story isn't nearly as charming as the images. In fact, there's hardly narrative at all. If anything, the downside to this book is that it takes work to "read" it to him as my job is to simply describe everything on the page. Pretty much the only text in the book is the sound effects: "See, this is a can of cat food that the boy kicked, and it's flying through the air — WHOOSH! — and now it's hitting the branch that wakes the sleeping cat that falls down — FLUMP! — and is being chased by the dog — RUFF RUFF RUFF…"
OMG. I saved the best for last. I love LOVE LOVE this book. It is just so Japanese. These silly, squarish animals staring patiently out from the page in their neat little rows. The animals never leave their designated spots. As the colors of the pages change, certain animals appear to "hide." The text of most pages is simply "Who's hiding?" — which, upon repetition, is simply more and more fun to say. The second most fun pages are the ones where some of the animals are turned around, showing their tails; i.e.: "Who's backwards?" And the page that always makes Jonah laugh is the one where the entire background is black and all you can see are rows of eyes: "Who's who?"

Edited to add:
Okay, I had to come back in and add to this post because I completely forgot one more book that goes in this category. And how could I forget this one since we have been reading it at least four times a day lately???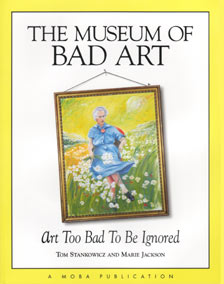 Irony dressed in a corduroy jacket with elbow patches and smoking a pipe, this book contains selections from the actual Museum of Bad Art's permanent collection, each with a brief paragraph or two of elucidative commentary. Jonah loves perusing the reproductions of brightly colored paintings and sculptures. I tried showing him a book of "good" art — a catalog I have from the 1995 Venice Biennale, but he wasn't nearly as interested.
Is he judging the images based on quality? I don't know. We're probably reading it on two different levels as I page through and get an education on what makes some art bad, and some art really bad, and Jonah learns that an orange smudge within a blue smudge can be considered a fish.