How did one week go by so fast?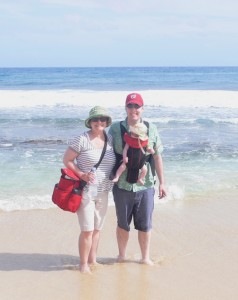 Day seven was hazy. Baby hazy. The boy went on one hour nursing jags in the morning, interrupted by a nap and a mega-poop-tacular, which altogether kept us from leaving the condo until 11 a.m. High winds, cooler weather, maybe a little exhaustion kept us from "leaving the rez" at all that day, so to speak. A lot of jostling of chaise lounges by the less than exciting condo pool (No, I want to be in the shade, no I want to be in the shade, I want to be in the sun, move that one over, who's going to hold the baby…)
We did get the boy in the water for a bit as the hot tub wasn't too hot. And then we went for a walk along the path that edges the cliffs above the ocean, spotted a few sea turtles frolicking in the rough surf.
Perhaps we should not have taken the boy on said walk after swimming — damp shirt, high winds — as that night he developed a bit of a cough-and-sniffles, which may have been why he woke up every two hours all night long. Wheeeee.
That night we dined at Casa di Amici — a Hawaiian/Asian/Italian/Spanish/New Mexican fusion place that offered some real hits: a pitch perfect veal piccata, a dense yet fluffy salmon in a lightly sweet and salty "mahogany" glaze (ignoring the less than harmonious black beans served along-with); and some odd misses: we can't even really discuss the "porcini crusted chicken" as there was neither crust nor porcini as far as we could fathom, but rather a mess of skinless boneless breast pieces in a thick brown soupy sauce — with grapes!?! — and little triangles of polenta floating around the edges. They had a unique idea of tapas as well: the crab cake was good, but the mushroom "gratin" was actually just a bowl of sauteed mushrooms, in an excellent wine-y sauce, yes, but still, a bowl of mushrooms with a few slices of cheese melted over the top. Ditto the plate of sliced tomatoes with cheese melted over top. They do grow their own basil for the pistachio pesto, which was fabulous.
A funny thing about restaurant food on Kauai. Maybe it's just where we went, but it seems like every restaurant is a little over enthusiastic on the whole fusion thing. Like they read about it in a book and decided to try it for themselves, without any real guidance or experience with it. Another detail: every restaurant seemed to have this same salad: watermelon, gorgonzola, candied macadamias, and organic greens in a citrus vinaigrette. I didn't eat a whole macadamia the entire week, just bits of them in my salads.
One lesson for the trip has been that at least at this age, and maybe just in Hawaii, we'll see, the boy is a great dinner companion. No diaper emergencies on this night; as usual he was quietly content to nurse; and once again, he fell asleep at the table.
Day eight was a travel day. The boy definitely has his first cold, so we stopped at the drugstore for saline drops to take on the plane, which we never ended up using. Also took a bottle of breastmilk but ended up holding and nursing him on take-off, and then after he fussed and cried all through the flight — unless he was being waltzed up and down the aisle on my shoulder, and then he slept through the descent and landing, so didn't use that either.
And now we're back home. It almost feels like the trip never happened. Except for our souvenirs: his cold, my mosquito bites. (Oh yes, and the various Hawaiian shirts, shorts, the necklace, the vacation weight gain…)